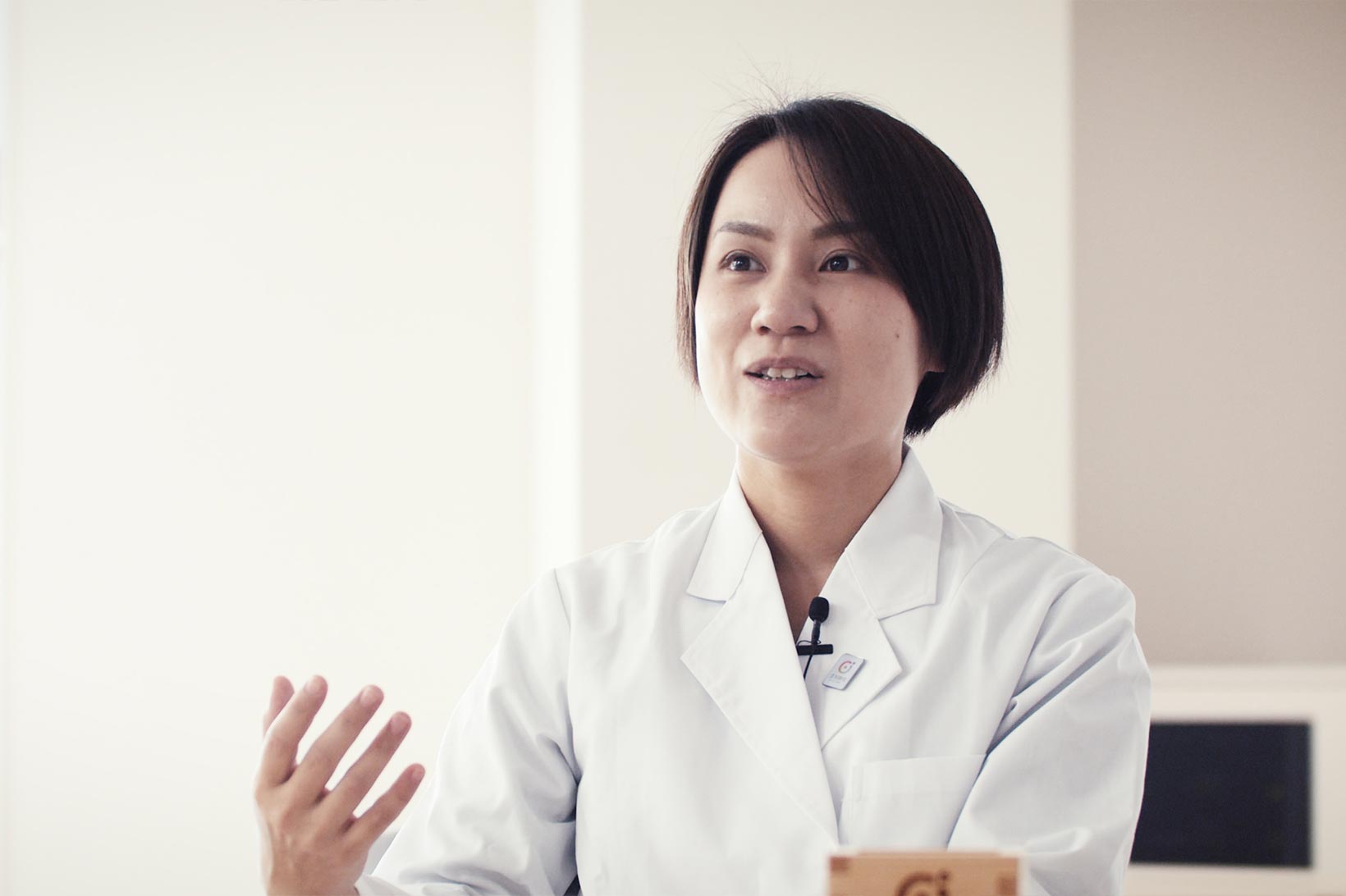 The Untold Story of the Development of "Kyo-no-Koi", the First Kyoto Yeast in 2022
~Interview on Dr.Tamami Kiyono, and on Future of KMIITC~
The face of "Kyoto Yeast," an original yeast branded by KMIITC and limited to the Kyoto area, is Tamami Kiyono, who is a researcher at KMIITC. She is also the creator of "Kyo-no-Koi" yeast. The catchy name "Kyo-no-Koi" is her own idea. She says, "It evokes the image of poignant and bittersweet first love"
Recently, she has had more opportunities to be a spokesperson for "Kyoto Yeast" in the forefront of local media exposure and presentations at academic conferences, but her original position is that of a researcher developing yeast. She has a doctorate in science and is a registered dietitian. Her specialization is not only limited to sake; but also in the development of excellent microorganisms for use in the food industry; the analysis and evaluation of products; as well as technical support and research and development for the local food industry.
Kiyono studied Food Science at the Graduate School of Life and Environmental Sciences, Kyoto Prefectural University (Kyoto, Japan). She originally planned to become a registered dietitian, but "I liked experiments and decided to become a researcher," she says. It was not until her fourth year of undergraduate studies that she began to focus on sake. "At the time, I had no idea that sake would be so deeply involved in my life. Makes me feel emotional when I think about that," laughs Kiyono.
In 2014, after joining KMIITC, she began working with yeast and microorganisms as a professional for the first time. For about a year after joining the institute, she went on a hands-on training at a sake brewery in Kyoto and was allowed to be involved in the actual production, such as steaming rice and making koji. Kiyoo Hirooka, her supervisor, told her, "If you are going to be involved in sake yeast development, you should know something about sake brewing". "Thanks to this, I was able to grasp the scale of each sake brewer in Kyoto, what machinery they were using. This helped me a lot in my later work," Kiyono says gratefully.
When Kiyono joined KMIITC, "Kyo-no-Koto" and "Kyo-no-Hana," yeasts limited to Kyoto, had already been put to practical use, and research on "Kyo-no-Saku" was also in progress. Kiyono took over the research on yeast for aromatic sake, suitable for chilled daiginjo, which was still under development. One of the yeast strains have already been isolated from "Kyo-no-Koto", which seemed to be very close to be put into practice.
But then came the hard part. It was very difficult for her to separate and breed the strain that had the ability to produce an outstanding aroma, and days of trial and error ensued. Kiyono recalls, "I realized how difficult it was to develop yeast." Nevertheless, she finally found a strain that produced high levels of ethyl caproate and isoamyl acetate, as well as malic acid.
Just then, Hiroo Harada, the senior brewing manager at Haneda Brewery (now the master brewer), came to KMIITC to ask about the possibility of creating a completely new product. Kiyono then proposed the yeast for test brewing, which was in the preliminary stages of commercialization. "When Haneda Brewery accepted to do the test brewing, I thought to myself, 'Yay! I We've done it!' " Kiyono recalls. At the same time, she did her best as a yeast developer to eliminate any concerns about the actual test brewing.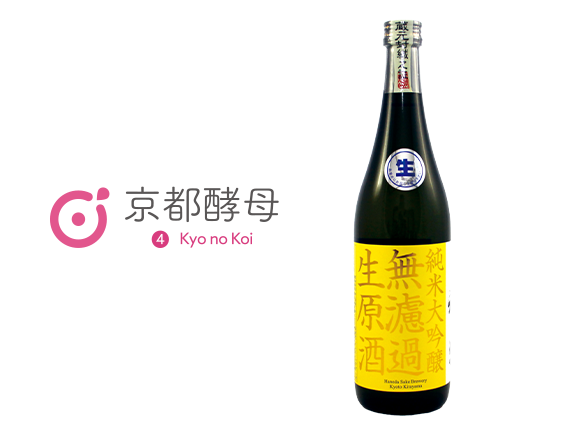 A completely new type of sake with a strawberry or raspberry aroma and pleasant acidity was created as a result of the test brewing. It was a wonderful achievement. This was the first sake brewed by Kyo-no-Koi yeast in 2020. The following winter and spring, the main production was carried out, and "Kyo-no-Koi" sake was released in earnest. It is said that the development of yeast usually takes about 10 years per strain. After Kiyono's involvement, it was quickly put to practical use, taking only five years. Kiyono is grateful for the fact that her predecessors had done the groundwork for the yeast.
Dr. Kiyono smiles broadly, "The most rewarding thing for me is to see sake brewed with the yeast I developed, becoming a product and appearing on store shelves." In addition to sake, she has received an increasing number of inquiries about using Kyoto yeast in the preparation of craft rum and the fermentation of bread, some of which are already in the process of being put to practical use.
"We would like to make efforts so that people will eventually believe that the authentic Kyoto sakes are made with Kyoto Yeast," says Kiyono. KMIITC and Kiyono look to the future of Kyoto Yeast with great anticipation.

Other Stories
Contact us