Matsui Sake Brewery
Tradition and Renovation
~In Cooperation with KMIITC to Rejuvenate the Sake Industry~
Walking 10 minutes down along the Kamo River from Demachiyanagi Station, you will find a classy latticework and a traditional cedar wreath of a sake brewery on the ground floor of a reinforced concrete apartment building alongside Higashi-Ichijo street. Freshly renovated in August 2022, the entrance has a tasteful design with a balance of traditional Kyoto machiya townhouse style and modern ideas. Finding a vacuum distillation machine behind the "sakaya-goshi" (sake shop lattice) might as well surprise you. "We are planning to start producing craft gin and rum within the year," said Jiemon Matsui, the 15th generation owner/master brewer of Matsui Brewery, with a big smile on his face.
Matsui Brewery was founded in 1726. It will soon be 300 years since its establishment, and borrowing the words of Mr. Matsui, it is "both an old and new sake brewery". The brewery has a long history of being the purveyor to many famous temples and shrines in Kyoto, including Shokokuji, Kinkakuji, Ginkakuji, Kamigamo and Shimogamo Shrine, but due to the underground construction of the Keihan Outou Line during the high economic growth period, the well water, the key to sake brewing, was no longer available, and the brewery temporarily closed down. In 2009, Mr. Matsui resumed sake brewing, and after learning from a master brewer who belonged to the Noto Toji Guild, he became the master brewer himself in 2012. In 1991, he succeeded the position of President and Representative Director, following the name of Jiemon Matsui, the 15th generation of the Matsui family, which is the official family name that has been passed down from generation to generation from father to son for 300 years.
True to its motto, "Old and new," Matsui Sake Brewery has made several surprising innovations while continuing the tradition of sake brewing. Matsui says, "Our style is to keep trying new things. What I think tastes the best is the sake I drink at the brewery." Matsui's ambition to bring such sakes to people who are unfamiliar with sake has led Matsui Brewery to offer a lineup that focuses on fresh, non-filtrated, non-pasteurized sakes that are carefully controlled in terms of temperature and hygiene. The company also believes that the total package should appeal to consumers as well, so it has created a variety of fun features, including the bottle design. For example, the brand name "Kagura" printed on the bottle was created by calligrapher Sisyu, and beautifully colored bottle packages were selected to match the image of each product's characteristics. By holding a smartphone over the bottle, visitors can watch a video of the sake being brewed every two weeks via a special application. In addition, when visitors hold up their smartphones to the leaflet available at the tasting bar counter, the "Kagura-sama (Deity of Kagura)" character, designed by the renowned illustrator Mai Yoneyama, moves and talks to them.
Two years ago, Matsui Brewery and KMIITC began a full-fledged joint development initiative. Matsui had been searching for a way to create a unique sake brewed in Kyoto, such as using Kyoto's "Iwai (Celebration)," a rice suitable for sake brewing. Matsui chose "Kyo-no-Koi" as the yeast for the new product. This new product was a junmai sake with a low alcohol content of 13%, yet with a rich flavor, and with a gorgeous aroma which goes along well with the gorgeous image of Kyoto. "Kyo-no-Koi was the closest to the ideal yeast for brewing a low-alcohol sake for drinking at home with a gorgeous aroma and refreshing acidity, which creates an image reminiscent of Kyoto as an old capital," recalls Matsui. The recipe was fully developed by KMIITC, and the new sake was named "Junmai KAGURA "Clear" Unfiltered, Undiluted, Unpasteurized". "It was fun to work with them on the joint development. If we can continue to collaborate with KMIITC, we can work together for further expansion of the demand for sake," says Matsui.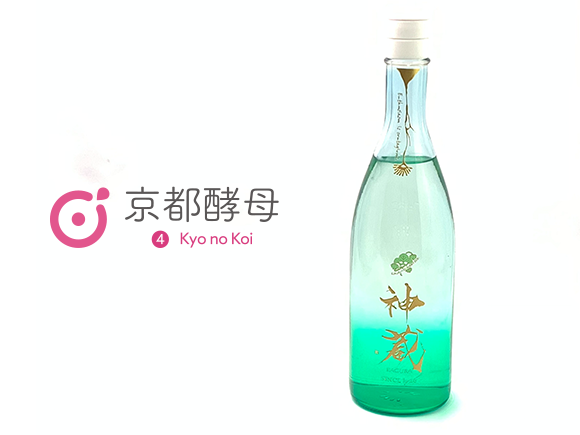 Other Kyoto yeasts may also be candidates for selection when considering new products in the future. "KMIITC has perspectives and technical capabilities that sake breweries do not have, so they can reinforce the trunk of our production. Our ability to think outside the box as a brewery will be tested in the process of growing branches and leaves from that trunk to blossom and bear fruit. We would like to continue to introduce products that will be of interest for overseas consumers and of the younger generation in Japan," said Matsui with a twinkle in his eye.
Other Stories
Contact us