Haneda Brewery
Sake with a Clean Finish Produced by the Medium-hard Water
~New Style of Kyoto Sake with "Kyoto Yeast"~
Keihoku Town is located in the center of the Tamba Plateau, about an hour's drive northwest along the Shuzan Highway from the center of Kyoto. The Yuge River, a tributary of the Kamikatsura River, flows through the town surrounded by Kitayama cedars. The water is so clear that from early June to early July fireflies dance wildly under the starry sky. Haneda Brewery, which celebrates their 130th anniversary in coming 2023, brews beautiful sake in this rich natural environment. The diurnal range of temperature in Keihoku Town is wide, and it is not unusual to drop to as low as -10°C in the winter. This is ideal for sake brewing.
The main brands of Haneda Brewery are "Hatsuhinode (New year sunrise)" and "Haneda". "Hatsuhinode," which has been the primary brand name since the company's establishment, is very popular as a New Year's sake because of its auspicious name.
Yuge River subterranean water used for brewing is a medium-hard water with a hardness of 130mg/L, richer in minerals than the water in Fushimi, Kyoto, which is also known as a famous brewing area within Kyoto Prefecture. The sakes using this water have a pleasant dryness and exquisite acidity, fine texture and crispness. When paired with Kyoto cuisine, these sakes add a different touch than the famous Fushimi sake also local to Kyoto. "Tourists visiting Kyoto like to enjoy Japanese food in the town. They want to make the most of their visit by pairing local Kyoto sakes with culinary delights. Our dry, crisp sakes meet those needs as one of the options at Kyoto restaurants and izakayas," Masatoshi Haneda, president and representative director, remarked proudly.
Of course, Haneda's beautiful sake cannot be brewed solely by the famous water alone. The brewery brews sakes in a traditional wooden facility that is over 100 years old, and the use of traditional wooden cedar vats for some of its products is another important aspect of the company's commitment to tradition. The rice used is also distinctive along with using "Gohyakumangoku" and "Kyo-no-Kagayaki (rice variety exclusive to Kyoto)", the brewery also uses "Iwai (Celebration)" Kyoto's original sake specific rice variety, which revived since 1992. The brewery has its own rice paddies located on the premise, and the kurabitos (brewery workers) carefully grow the rice, from soil preparation to harvesting. The rice has a very large shinpaku (starch core) and low protein content, making it suitable for ginjo sake. However, growing Iwai rice can be very labor-intensive because it is tall and more prone to damage from the weather. "We make sure that everything we do is done correctly and carefully, not only in sake brewing but also in rice production," says Hiroo Harada, the master brewer, with great affection on both the rice and on the brewing of sake.
For some time now, Haneda Brewery has been using "Kyo-no-Koto," yeast of KMIITC for its "Hatsuhinode Ginjo Wooden Vat Brew". The full-fledged collaboration began in 2019, when Harada consulted with KMIITC about developing a new product with an unprecedented taste and aroma. Here, Harada came across "Kyo-no-Koi" yeast, which did not even have a name at the time, and decided to try brewing it in-house on a trial basis.
In February 2020, the test brewing began. Gohyakumangoku rice was used for the sake rice. The resulting 17.5% non-filtrated, non-pasteurized sake had a fruity, strawberry-like aroma and a high malic acid content, giving it a white wine-like flavor. In March of the same year, the sake was put on test, and in March 2021, it was released in earnest as "Hatsuhinode Junmai Daiginjo Non-filtered, Non-pasteurised, Non-diluted." Haneda was pleased with the name of the yeast, "Kyo-no-Koi," which was named in February of the same year, saying, "It is very catchy and nice." He also hopes that "people who are not familiar with sake, including the younger generation, will enjoy this sake with Kyoto cuisine".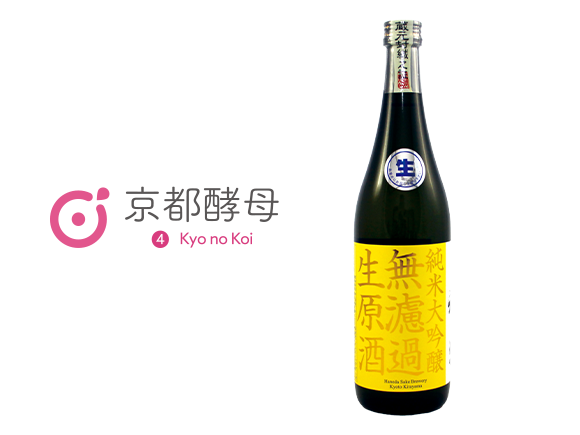 The collaboration between Haneda Sake Brewery and KMIITC has not ended here. The company has been involved in the test brewing of "Kyo-no-Haku," a yeast for warm sake, and plans to use it in honjozo and eventually in regular sake, based on Harada's hope that the yeast will be used as an everyday sake and be a part of the everyday dining scene. The company is also actively involved in the test brewing of "Kyo-no-Saku" yeast from KMIITC.
"I would like to brew sake deeply rooted down in Kyoto with Kyoto rice, Kyoto water, and Kyoto yeast," Haneda dreamed out loud. Haneda Brewery and KMIITC will continue to be an irreplaceable partner in the Kyoto sake scene.
Other Stories
Contact us