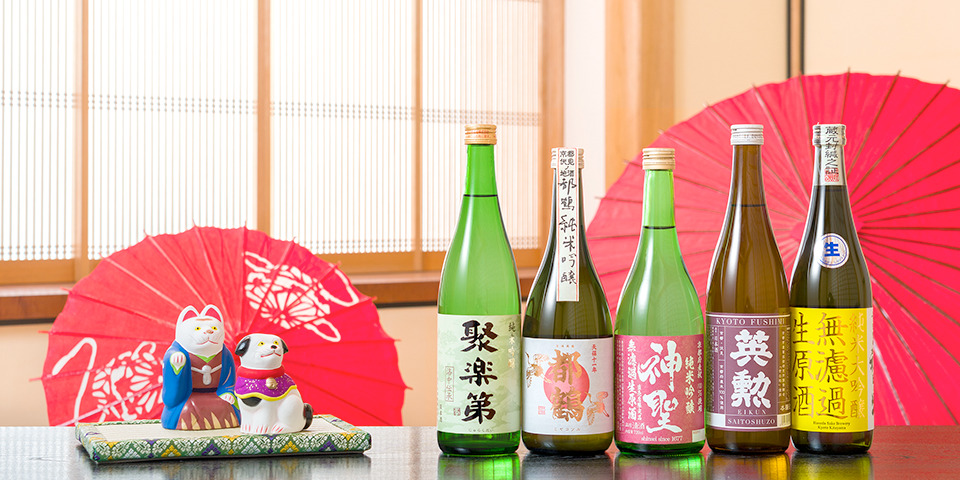 Birth of "Kyoto Yeast"
~Creating New Value to Add to the Sake Scene in Kyoto~
Since the Meiji period, applied research in sake brewing has focused on the scientific clarification of sake and what factors contribute to stable brewing. The establishment of the Brewing Society of Japan and the distribution of effective yeast as "Kyokai (association) Yeast" were also based on this trend. However, the environment surrounding sake has changed drastically since then. Sake production began to decline after peaking in 1973. This was the result of the westernization of people's lifestyles and the increased consumption of Western-style alcoholic beverages such as beer and wine.
In 1968, Kyokai No. 9 yeast was distributed as the original strain based on a yeast isolated in Kumamoto that produced a gorgeous fruity aroma. Beginning with this, breweries around Japan started also brewing ginjo sake, a sake made with aromatic yeast and with a lower rice polishing ratio, for their annual entry in the National New Sake Competition. At first, these entries were only for the sake competition and were not intended for sale to the public, thus only few people experienced them first-hand.
However, in the late 1970s, a movement began in Tokyo for the public to acquire and drink these fragrant competition ginjo sakes as a "rare, elegant sake" to be enjoyed by all consumers. In the bubble economy of the 1980s, a movement to enjoy aromatic ginjo from various regions became active and eventually followed by people in the media who were fascinated by this trend. This was the "Ginjo Boom". Amid this boom, local R&D research institutes, universities, and private companies began to develop new yeasts that produced fruitier and more floral ginjo aromas, and many local yeasts such as high ester-producing yeast and high malic acid-producing yeast were produced.
The Kyoto Municipal Institute of Industrial Technology and Culture (KMIITC) began distributing yeasts from the 1960s, mainly "Koshi (Industrial Institute) No. 1" (derived from Kyokai No. 6 yeast) and "Koshi No. 2" (derived from Kyokai No.7 yeast), to sake breweries in Kyoto City. These yeasts were mainly used to produce futsu-shu (ordinary sake), as they contributed to a stable, predictable brewing environment and improved customer experience. However, sake breweries in Kyoto City, which had witnessed the boom in ginjo sake, increasingly called for the development of more aromatic yeasts.
The Brewing Society of Japan had also debuted Kyokai yeast No. 1601 and 1701 as ginjo yeasts since the beginning of the 1990s. At the same time, KMIITC also selected and bred several yeasts from sake breweries in Kyoto that produced high levels of ethyl caproate and had good fermentation ability, and in 2003, a newly developed aromatic yeast No. 221 was launched. After the success of the test brewing, No.221, which was renamed "Kyo-no-Koto", was released in 2004 and later became the first in the "Kyoto Yeast" series. This was one year before the 2006 release of the nationally successful Kyokai No. 1801 ginjo yeast. Today, "Kyo-no-Koto" is still used by many sake breweries in Kyoto as a ginjo yeast.
The most important aromas produced by yeasts are ethyl caproate, which produces a pear-like aroma, and isoamyl acetate, which produces a banana-like aroma. A second Kyoto Yeast "Kyo-no-Hana", which produces high level of isoamyl acetate, was developed in 2007. "Kyo-no-Hana" not only has a high banana-like aroma, but also produces high levels of organic acids. This has been used to develop a different type of sake than that from sake brewed with "Kyo-no-Koto."
Among the organic acids which are components that affect the taste of sake, malic acid presents a refreshing sourness, while succinic acid is said to affect umami and richness. KMIITC selected yeast strains that produce high amounts of malic acid and succinic acid, respectively, from its own strains, and succeeded in commercializing them. In 2014, "Kyo-no-Saku," a yeast with high malic acid production, was selected for making sake which is better served chilled and in 2017, "Kyo-no-Haku," a yeast with higher levels of succinic acid was selected for brewing sake which is better served warm.
Furthermore, KMIITC succeeded in selecting a yeast that produces high malic acid from the existing aromatic "Kyo-no-Koto" yeast, which was suitable for a daiginjo served chilled. This yeast was named "Kyo-no-Koi" because of its fruity aroma and sweet-sour taste which was said to be reminiscent of "first love," and was put on the market in 2020.
At this point, KMIITC came to be aware of one issue which is prevalent in the sake market. Take wine for example. Wine is graded according to the region where the grapes are grown, the brewery, the production method, and the variety used, and consumers evaluate the quality based on the grading. On the other hand, sake is branded under the name "daiginjo" or "ginjo," which focuses on the polishing ratio of ingredient rice, and consumers tend to evaluate the quality of sake based on "how much the rice is polished". For sake breweries, the situation has become as if "the more you polish the rice, the more you add value to the sake," and excessive emphasis has been placed on the "rice polishing ratio" specification ever since. We have even witnessed a single-digit rice polishing ratio. Is this trend really creating value for the sake?
Since 2014, KMIITC has continued to brand its own yeast, focusing on the "diverse aromas and flavors produced by yeast" based on a renewed emphasis on yeast and blending and away from just the rice polishing ratio. The type and proportion of organic acids and aromatic esters produced by the yeast will result in different aromas and flavors in the finished product, sake. The idea is that, if Kyoto breweries produce a variety of sakes using local Kyoto yeasts of different characteristics, consumers can choose from this variety what they want, and enjoy sake in a way that suits their own individual preference. This is an innovative concept that breaks away from the traditional practice of ranking sake primarily by rice polishing ratio. Based on this idea, KMIITC has branded these five types of yeast as "Kyoto Yeast" since 2021, promoting this as a "shift from rank to style".
One of these efforts is worthy of special mention. Since 2019, KMIITC has taken the lead in product development using "assemblage" technology. "Assemblage" is a term used in the wine industry to describe the technique of creating a three-dimensional depth of flavor by blending multiple sakes. KMIITC requested Masuda Tokubee Brewery in Fushimi to assist with this development. Masuda Tokubee Brewery produced "Kyo-no-Hana" and "Kyo-no-Koi" sakes using the same rice under the same conditions. Compositional analysis and sensory evaluations were conducted by KMIITC, and they found that a blend ratio of 2 : 8 of "Kyo-no-Hana" : "Kyo-no-Koi" was the optimum ratio for featuring the best aspects of both types of yeast. The design team at KMIITC studied the concept of this product from the beginning and reflected the concept in the branding. In 2020, "Tsuki-no-Katsura The Branché", a product which solely uses "Kyo-no-koi", and "Tsuki-no-Katsura The Assemblage," a blended product with "Kyo-no-Koi" sake and "Kyo-no-Hana," sake, was launched. The two products have been well received by the market.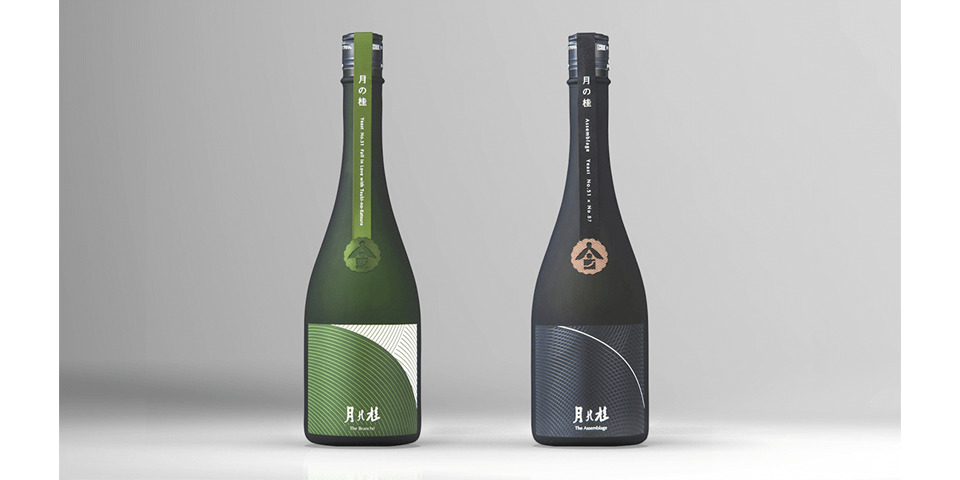 Left : Tsukinokatsura The Branché , Right : Tsukinokatsura The Assemblage
Although the "Kyoto Yeast" initiative has only just begun, it has already received positive feedback both in Japan and abroad. Brewing and branding sakes with new yeasts that create a variety of aromas and flavors can add new alternatives to the conventional value creation of sake based only on the rice polishing ratio. The colorful, promising future of brewing and promoting sakes made from Kyoto Yeasts is just beginning.
Other Histories
Contact us